Defending champion to carve new path at International Rally of Whangarei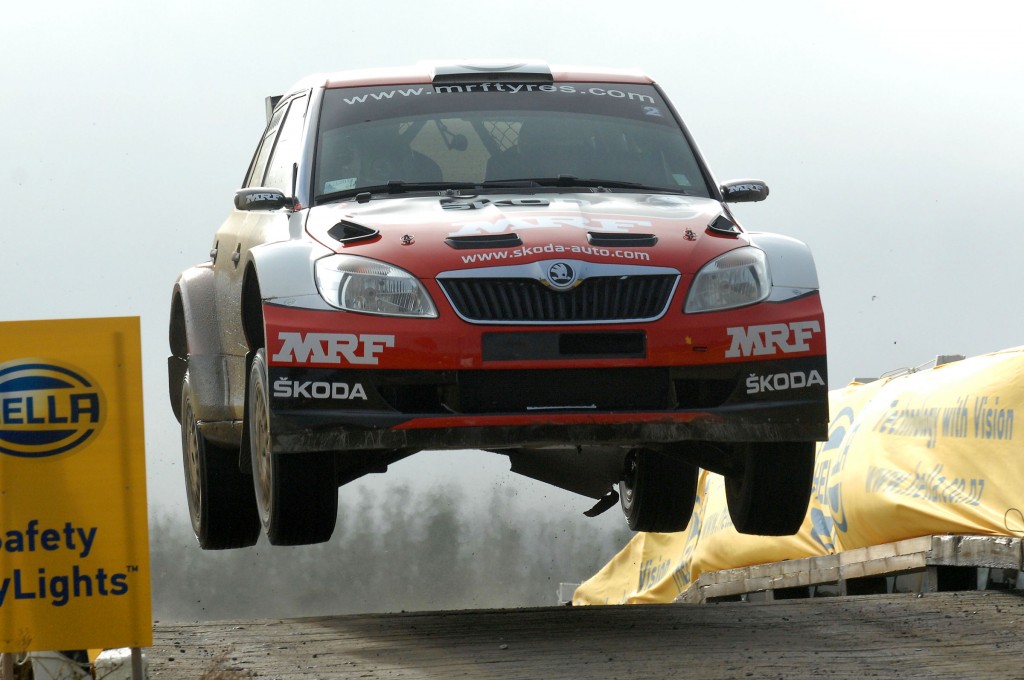 India's Gaurav Gill returns to defend his 2014 International Rally of Whangarei win and heads a multi-national line-up that will contest the region's roads from 17 to 19 April.
The first round of the 2015 FIA Asia Pacific Rally Championship (APRC) has visitors from India, Sweden, Japan, New Caledonia, New Zealand, and Indonesia and includes American sensation Ken Block, contesting the national event.
Covering 282.2km of Northland's gravel roads broken in to 16 competitive 'special stage' tests, the entire event has been re-mapped.
Starting and finishing in Whangarei the action begins on Friday night. From 4:45pm there is a driver signing session at Te Matau ā Pohe (the bridge adjacent to Pohe Island). That is followed at 6pm with a ceremonial start before the first of two competitive Hella Super Special tests at the William Fraser Memorial Park at Pohe Island, for the cars and their crew.
Saturday's eight stages use four sections of road, first in the morning and then repeated in the afternoon.
Departing Whangarei's Quayside town basin from 6:55am the crews head north. Using roads grouped either side of State Highway 1 near Maromaku, the first two (Maromaku 17.31km with one spectator point and Towai 27.28km, with two spectator points) feature sections used last year with some parts reversed. The next stage, Tapuhi (17.22km, with a further two spectator points) has changes to the start and finish.
Wrapping up each run is the 14.82km 'Helena' stage – a new addition to the event. Starting just inland of Helena Bay and the $50 million retreat of Alexander Abramov it has a distinct style. Two-time New Zealand Rally Champion Neil Allport expects it will catch a few.
"If you blink you might find yourself off it," says Allport, offering sage advice to the drivers.
"It is a well-used piece of road with a hard base and good gravel surface. What is unique is the way it changes style – it is like three stages in one. The start is in keeping with what competitors will see in previous stages, and then it gets in to tight gnarly and switchback corners with steep cambers. Toward the finish it opens out and is very fast.
"My summing up: pay attention."
Following a second service break back at the Whangarei Quayside town basin the cars are parked for the night ahead of Sunday's 7:25am departure.
A further six stages use three groups of road, used once in the morning and again in the afternoon.  Now traditional to the event, the day starts with the familiar Waipu roads of Springfield (28.51km), which has three spectator points, Waiotira (16.56km) with two spectator points and the Otuhi (18.15km) stage – to the north of the Tangihua forest, with a further two spectator points. Each test varies from past editions of the event.
After the second run the cars and crew return to the Whangarei Quayside town basin for the 3pm ceremonial finish.
Along with the celebratory national anthem of the winning team the top-three finishers are further recognised by their nation's flag being shown adjacent to the winners' dais.
While 2014 winner Gaurav Gill and co-driver Glenn Macneall are form favourites, fellow MRF Tyres teammates Pontus Tidemand and co-driver Emil Axelsson (Sweden) arrive for their first taste of New Zealand's roads. The 24-year-old comes with plenty of winning pedigree having been Sweden's youngest rally champion (2011) and winner of the FIA Junior World Rally Championship (2013). The pair will be driving factory backed Skoda Fabia S2000 specification cars, with a third campaigned by New Caledonia's Jean-Louis Leyraud.
Indonesia's Subhan Aksa makes a return to New Zealand and will drive a Mitsubishi Lancer Evo X. Two Japanese entries include Mitsuhiro Aoki (Mitsubishi Lancer Evo X) and the return of woman driver Rina Ito (Mazda Demio).
New Zealand representatives include Brian Green (Mitsubishi Lancer Evo X) and Mike Young (Subaru Impreza).
Integrated in to the event is a national category for those contesting the New Zealand Rally Championship and club classes.
Headed by five-time New Zealand rally champions Richard and Sara Mason (Masterton, Subaru Impreza) they have significant competition for local honours. Also competing is the home-built Peugeot skinned car of Alex Kelsey and co-driver Mal Peden (Coromandel, Kelsey MC2) plus top campaigners Ben Hunt and co-driver Tony Rawstorn (Auckland, Subaru Impreza), Andrew Hawkeswood and Jeff Cress (Auckland, Mazda 2), David Holder and Rob Scott (Tauranga, Mitsubishi Lancer Evo 8), Emma Gilmour and Anthony McLoughlin (Suzuki Maxi), and many more. Also making a return to the Northland roads is American stunt driver Ken Block and co-driver Alex Gelsomino (Ford Fiesta H.F.H.V) – who last contested the event in 2007.
Spectating at the rally start, finish and Quayside town basin service areas are free with access to rural viewing points costing just $10 per adult per day and $15 for the spectacular Hella Pohe Island Super Special Stage on Friday evening 17th April. Children under the age of 15 are free with a paying adult and paddock parking is available at some locations for a gold coin donation.
A share of all spectator ticket revenue goes to the local community groups that help run the spectator viewing areas. A rally map is available free to download from the spectator info section of the www.rallywhangarei.co.nz website, or it can be collected from rally headquarters at Quayside town basin (from 15th April). It illustrates prime spectating areas with detailed timings. Spectators are reminded to follow the instructions of marshals and ensure they stand well clear of the road's edge – and be inside the taped off viewing areas.
ENDS.
Photo attached: India's Gaurav Gill (Skoda Fabia S2000) headlines the opening round of the FIA Asia Pacific Rally Championship, starting with the International Rally of Whangarei this weekend 17-19 April. Photo: Euan Cameron.
Additional details
International Rally of Whangarei 2015 – event itinerary
Section 1a – Friday 17 April 2015
Stage, name, distance, start time
SS1 Pohe Island 1.25km 19:00
SS2 Pohe Island 1.25km 20:00 (Approx)
Section 1b – Saturday 18 April 2015
Stage, name, distance, start time
Start – Quayside Town Basin 06:55
SS3 Maromaku 1 16.86km 07:58
SS4 Towai 1 27.28km 08:26
SS5 Tapuhi 1 17.22km 09:49
SS6 Helena 1 14.82km 10:42
SS7 Maromaku 2 16.86km 13:23
SS8 Towai 2 27.28km 13:51
SS9 Tapuhi 2 17.22km 15:14
SS10 Helena 2 14.82km 16:07
Section 2 – Sunday 19 April 2015
Stage, name, distance, start time
Start – Quayside Town Basin 07:25
SS11 Springfield 1 28.51km 08:13
SS12 Waiotira 1 16.56km 08:56
SS13 Otuhi 1 18.15km 09:34
SS14 Springfield 2 28.51km 12:03
SS15 Waiotira 2            16.56km 12:46
SS16 Otuhi 2 18.15km 13:24
Ceremonial Finish, Quayside Town Basin, Whangarei City 15:00
For further comment, please contact:
Laurie Brenssell, International Rally of Whangarei organising committee chairman
M: 0274 333 667
For any other queries, please contact:
Lance Hastie, media manager, International Rally of Whangarei
M: +64 21 329 909; E: lance@comtechnology.co.nz
2015 FIA Asia Pacific Rally Championship calendar
Round 1: 17 – 19 April New Zealand (Counts toward: APRC, Pacific Cup, Junior Cup)
Round 2: 15- 17 May New Caledonia (Counts toward: APRC, Pacific Cup)
Round 3: 19 – 21 June Australia (Counts toward: APRC, Pacific Cup, Junior Cup)
Round 4: 14 – 16 August Malaysia (Counts toward: APRC, Asia Cup, Junior Cup)
Round 5: 18 – 20 September Japan (Counts toward: APRC, Asia Cup, Junior Cup)
Round 6: 30 Oct – 01 November China (Counts toward: APRC, Asia Cup)
Round 7: 11 – 13 December India (Counts toward: Asia Cup)
2015 Brian Green Property Group New Zealand Rally Championship calendar
Round 1: International Rally of Whangarei 17-19 April,
Round 2: DriveSouth Rally of Otago 9-10 May,
Round 3: Autosport Canterbury Rally 30-31 May,
Round 4: Gisborne Rally 27 June,
Round 5: Mahindra Gold Rush Rally of Coromandel 22 August,
Round 6: Trusthouse Racetech Rally Wairarapa 3 October.